---

deutsche Version
---
Church Records from
Ottmarsbocholt / Ascheberg
---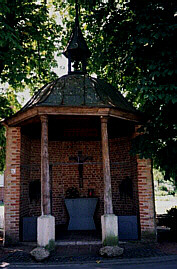 Weppelman(n) Chapel, Ottmarsbocholt
renovated 1870, built 1785
---

The oldest church record from Ottmarsbocholt starts, as far as the Weppelmann line is concerned with Jodocus Weppelmann born ca. 1635. His wife's name has not been registered, quite common in this period. His first son is Joan, born Sep. 29, 1659. His grandfather was his godfather. It was customary at the time that the oldest son was named after his grandfather, and if he were still alive, he would be the godfather. His name, "Joan Weppelmann" was also registered in the church record. He was probably born ca. 1617 (before the onset of the 30 year's War from 1618 to 1648).
This Jodocus born ca. 1635 had the following sons:

- Joan born ca.1655; from him descend Weppelman(n) from Ottmarsbocholt who presently live in Germany, the USA and South Africa.

- Johann Nikolaus, born ca. 1665, probably a weaver of linen moves to Kloppenheim ca. 246 km. away. From this line descend Walter Weppelmann from Koblenz in Germany and all the Weppelmann/Schmidt in Australia.

- Gerhard (from the Ascheberg Weppelmann Line), was born on Jan. 14, 1674. From this line descend the Weppelmann from Lampertheim, Cologne and Meppen.
His daughters were: Maria born Sep. 1, 1659, Gertrud born Apr. 10, 1662, Margaretha, born Aug. 28, 1664 Catharina, born Oct. 1, 1666 and Anna, born on May 26, 1675.
We do not know if Joan Weppelmann born 1618 had these children with one or two wives.
The names of the Godfathers show clearly that there must have been several Weppelmann Families in the Ottmarsbocholt / Ascheberg region, since other Weppelmann´s are noted as Godfathers/mothers of the children. In the 17th century also, we see the Godfathers of the Ascheberg Weppelmann Line as Godfathers in Ottmarsbocholt and vice versa.

Thus we should not be surprised that when Bernhard Weppel(mann) appears before the Court in Ascheberg as a witness in 1484, there had already been a "Wepeling", Son of Weppel, from Oelde, a thus far unknown "Weppel(mann)". He settled in the Ascheberg/Ottmarsbocholt region, gaining this property either through exchange of fields, as leasehold from a new Landlord, or by using an inheritance to purchase it and to start building a future. The distance between Oelde and Ottmarsbocholt is 76 km, a two-day's march.